Buy To Let Opportunity
Located south of Derby city centre, with excellent access to the A50 / A38/ M1 and close to all the major employers around Derby. Chellaston is a very popular suburb with a mixed housing stock. This particular street has seen strong, stable growth for many years and we expect it to continue.
The property is 21 Thurstone Furlong, Chellaston, DE73 5PZ. It can be viewed on Rightmove, please click here to see the advertisement.
Chellaston is very close to all the major employers around Derby, including Bombardier, Rolls Royce and Toyota. East Midlands Airport is approx 7 miles to the south east, and is an important economic centre and major employer in the area. It is also within easy commuting distance of the major employment centres of Nottingham and Leicester.
Derby train station is approx 4 miles away. East Midlands Parkway station, with links to Midland Mainline, approx 9 miles.
Homefields Primary School, rated Outstanding by Ofsted, is a stones throw away from the property. As a result this particular road is in high demand and will always be popular with both homeowners and tenants.
Below is a Property Performance Forecast which gives you an illustration of the potential return on this investment.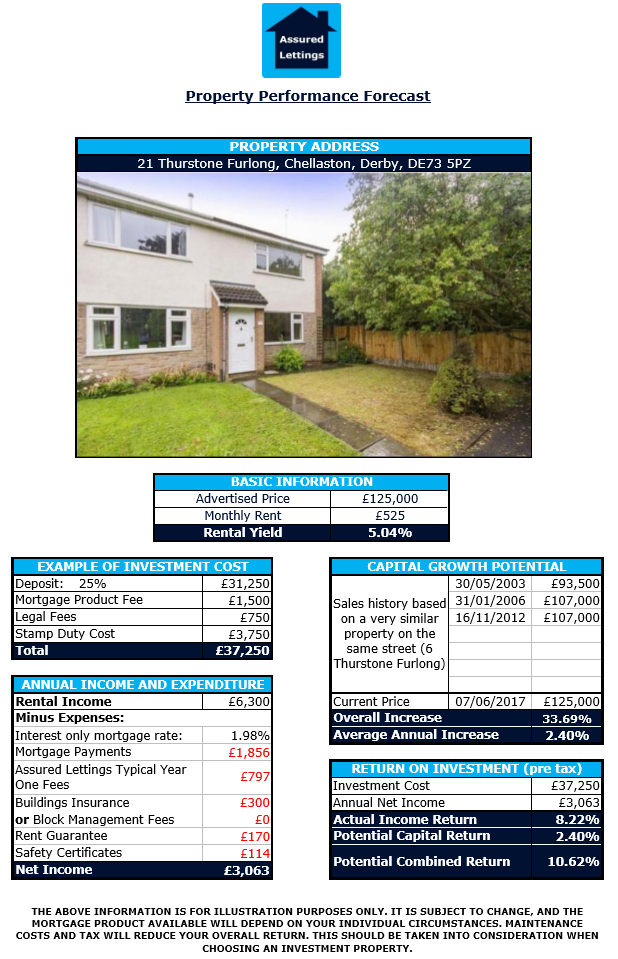 As you can see from the figures above, this property looks like a strong, stable investment property. The rental estimate is based on the property's current condition within the advertisement. Should you decide to invest in a new kitchen, bathroom, carpets etc we would expect this to rise to £575/600pcm.
If you wish to discuss this property in more detail, or wish to be kept updated with other good potential Buy To Let investments. Please call 01332 729584 or email office@assured-lettings.co.uk.
PLEASE NOTE: All of our work is done in good faith, but as with any investment, Buy To Let comes with no guarantees. You should still do your own research and sums, to satisfy yourself that your chosen property is a reasonably safe investment. Market conditions can quickly change and you should always look at Buy To Let as a long term investment.